We all know Cava's food is delicious but is Cava healthy? We think so but let's take a deeper look at Cava and some of its healthiest dishes.
CAVA covers you if you're looking for the healthiest food with some of the tastiest, nutrient-dense, low-calorie cuisine available.
Healthy greens, honey chicken, tahini, falafel, hummus, and CAVA's renowned tzatziki sauce are some of their signature dishes. They also provide some of the lowest-calorie, healthiest dressings, sides, pitas, and beverages to complete your meal. 
However, you may think about whether is Cava is healthy or not. To help you out, we have assembled a collection of the healthiest food Cava has to offer. 
Let's get started.
Bases
Cava provides many healthy bases, including serving of greens and lentils 
The dark greens provide vitamin K, which helps build bones, and cancer-preventive nutrients, including beta carotene and glucosinolates (in arugula, broccoli, kale, and cabbage). 
Lentils are high in fiber, protein, vitamins, and minerals. They help control blood sugar because they are a low glycemic index carb.
Spreads And Dips
Surprisingly, each Cava dip has fewer than 65 calories per serving. The original Hummus and the roasted eggplant are two of our personal favorites.
In addition, the roasted red pepper hummus is an excellent source of fiber, vitamins, and minerals.
Red pepper and eggplant contain substances called "glycoalkaloids" that are effective in the fight against cancer. Red pepper is also high in vitamin C and beta carotene.
Protein
With 9g, Cava's falafel has the most plant-based protein. For extra protein, we would suggest combining it with a base of half greens and half lentils or RightRice.
Additionally, skinless grilled chicken, among other things, aids in converting food into energy and is rich in selenium, a substance that fights cancer, niacin, and B vitamin. 
Oddly, there is also the protein-poor option of "Roasted Seasonal Vegetables." Get half an order with a half order of chicken; they are delicious and nutritious.
Toppings
Our favorites are pickled onions, Persian cucumber, Fresno peppers, and crumbled feta.
Cancer-preventive glucosinolates and vitamin C are present in the cabbage slaw and cauliflower quinoa. In contrast, vitamins, phytonutrients, and fiber are present in the carrots and currants, cucumber, lemon wedge, mint, pickled banana peppers, pickled onion, and shredded romaine, and tomato and cucumber salad. (If you're trying to cut back on sodium, choose just two of the first three toppings; feel free to add more of the others.)
Dressings
The salad dressings at Cava are all nutritious as they're created with healthy lipids like tahini and olive oil and have a moderate amount of sodium.
Greek Salad
The Greek Salad is the healthiest bowl on the CAVA menu. It's Mediterranean, flavorful, and as close to Greek as possible. The salad includes, 
Super greens like Romaine and Arugula,
Hummus and traditional Greek fare like Tzatziki,
grilled chicken,
Feta, cucumber, tomato, and Kalamata olives.
At 600 calories per bowl, it has one of the lower calorie counts. This dish is among the best because of all the vitamins, minerals, nutrients, and antioxidants it contains.
Emma's Fire Bowl
Emma's Fire Bowl is the one for you if you can stomach a little touch of spice.
It is stuffed with Kalamata Olives, Pickled Onions, Persian Cucumber, Feta, Avocado, Splendid Greens, and Skhug sauce.
This bowl is the crunchy, fiery, and creamy delight you've been waiting for because it's loaded with healthful ingredients. Emma's Fire Bowl contains 850 calories, 10 mg of cholesterol, and 17 grams of protein.
Harissa Avocado Bowl
The Harissa Avocado Bowl is another healthy bowl combination. This chef-curated bowl is vibrant but hot, making it ideal for summer.
SuperGreens, Basmati Rice, Feta, Hummus, Harissa Honey Chicken, Fire-Roasted Corn, Avocado, Pickled Onions, Cucumber, Feta, and their new Hot Harissa Vinaigrette are all included in this dish.
This bowl is ideal if you're feeling a little adventurous. It contains an astounding 41 grams of protein and 885 calories.
Lentil Avocado Bowl
The Lentil Avocado Bowl at CAVA is yet another nutritious choice. This Greek recipe is ideal if you need something a little more vegetarian-friendly.
Falafel, roasted vegetables, avocado, spinach, roasted eggplant, hummus, pickled onions, cucumber, lentil tabbouleh, cabbage slaw, and garlic dressing are all used in its preparation. This bowl is outstanding because it contains no cholesterol and includes 16 grams of protein and 770 calories. 
Chicken and RightRice Bowl
The Chicken and RightRice Bowl is another nutritious bowl option you need to get right away after your workout.
You won't feel hungry again for the rest of the day as it contains 45 grams of protein. It includes arugula, chicken, tzatziki, hummus, feta, cucumber, tomato, onion, and pickled onion atop a bed of low-carb, protein-rich RightRice. The Greek Vinaigrette, one of their healthiest dressings, is used to finish it.
This is the ideal bowl to build muscle, containing 745 calories and 45 grams of carbohydrates. 
Tahini Caesar Salad
The Tahini Caesar salad at CAVA is one of the healthiest items on the menu. This bowl has a staggering 37 grams of protein and is lower in salt than its other bowls.
This one is topped with a Tahini Caesar dressing made with Aleppo pepper and is prepared with Romaine, Arugula, Hummus, Grilled Chicken, Pita Crisps, Pickled Onions, and Feta. This could be an excellent first option if you're unsure which bowl combos to select. Furthermore, it only has 550 calories.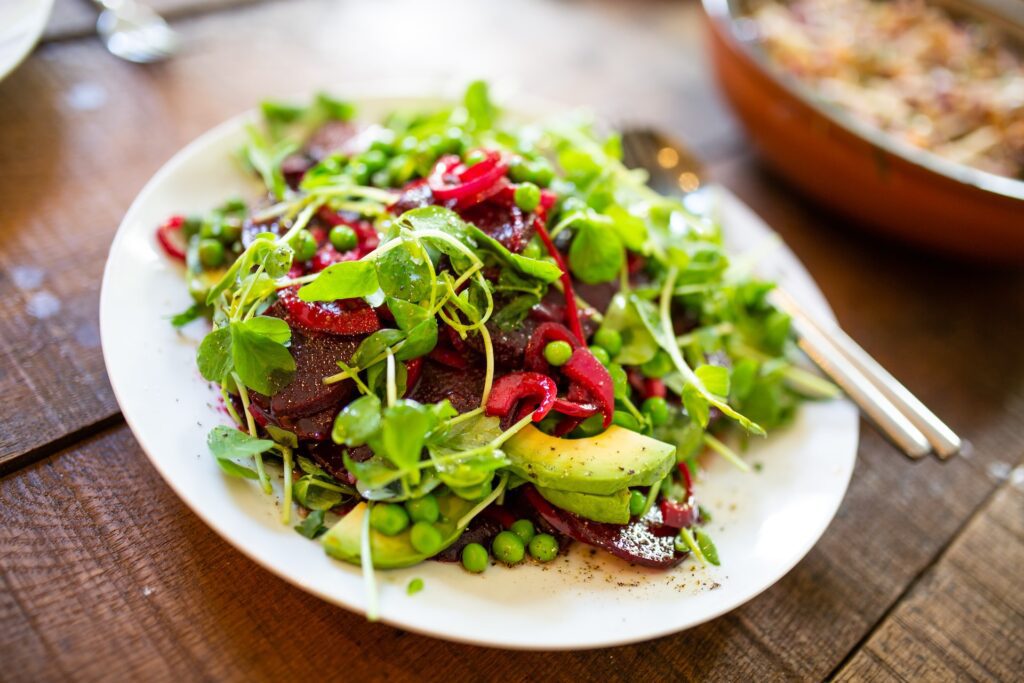 Final Thoughts
It has never been simpler to find dishes full of nutritious ingredients than visiting your neighborhood CAVA. If you want to lose weight, build muscle or just eat well to stay healthy, Cava is the place for you.
They have some of the tastiest food available and some of the most nutritious bowl combinations and dressings. Many of these bowls are high in protein, low sodium, and calories. 
Make CAVA a regular for where you eat.